Journal number 1 ∘ Valeri Arghutashvili ∘
Business studies issues in the context of regional development Case in Georgia
DOI: 10.36172/EKONOMISTI.2021.XVII.01.ARGHUTASHVILI
Annotation. Education and science and their high quality are strategically important for the sustainable economic development of any country. The development of the quality of education contributes to the increase of the welfare of the country, which is a necessary precondition for the development of a person's personal, professional life and, in general, for society.
In 2005, Georgia formally joined the Bologna Process and aimed to integrate into the European educational space by reforming its education system. Thus, fundamentally changed approaches to university education; New educational programs have been developed. The paper mainly studies the regional potential of Georgia in this direction.
Despite in-depth reforms and investments made, many issues remain to be addressed, including the link between education and the labor market and the development of entrepreneurial skills at the higher education level.
Key Worlds: sustainable development; professional internships; German economic model; labor force; Georgia education system.
Introdaction

EU education policy views the university as a center for the delivery of higher quality education, which is solely responsible for the realization of the knowledge economy. In recent times, it has been particularly emphasized that economic progress depends on knowledge and the use of this knowledge, commonly known as the knowledge economy. However, economic progress has always depended on new ideas and innovations.
Spanish scholar Patricio Montesion calls the university's third mission "community service" and notes that the university may have: 1. a social mission (services without monetary benefits); 2. production mission (university is interested in increasing the turnover of finances); 3. innovative mission (through consulting contracts, problem solving for production, etc.). In the context of the knowledge economy, new knowledge is a prerequisite for economic growth and development.
Research in European universities will be designed in such a way that the graduate is equipped with the necessary competencies for the market, and the research must be relevant to the market and state demand, fulfilling its third mission - serving the community and promoting economic development of the region (country). A university that conducts market-driven research, creates an innovative product which is economically viable for each party. Particular attention has been paid to the cooperation between the university and the business sector after EU policymakers decided, that the in EU should be the most competitive economy in the world. University-business collaboration mainly covers three aspects, namely: the relationship between science and economics, the interorganizational relationship between universities and enterprises, and the interpersonal relationship between professors (scholars) and company employees. For the success of university-entrepreneurship cooperation, this type of cooperation between higher education and its industrial field must be mutually beneficial.
Despite many reforms in the education system, there is a low-productivity labor market due to the imbalance in demand between the types of activities and professions, that young people master today in higher education institutions.
The implementation of various components of the university-entrepreneurship collaboration is precisely the mechanism that demonstrates the effectiveness of the system, which reflects the need of renewal of curricula in higher education institutions in technological areas, which are in line with the needs of entrepreneurship development. To achieve this goal, universities contribute to the development of the region through research and collaboration. For example, it is important.
The vocational education and training system is an integral part of the German economic model, as it maintains and develops highly specialized and experienced staff for all types of companies, especially small and medium-sized enterprises. In 2017, 90 % of professional internships in Germany took place in such enterprises. Relatively large companies (with at least 50 employees) play a key role in the German vocational training system, with 76% of them applying for internships, in contrast to medium-sized enterprises (10 to 49 employees), where the figure is 50 %, with 24 % in small enterprises (5 to 9 employees) and micro enterprises (less than five employees) - only 5 %.
The German vocational education and training system has another positive side. It significantly contributes to the fact, that Germany has the lowest youth unemployment rate (compared to the unemployment of older groups) than other industrialized and emerging economies.
Economic review of regions - Georgia is a small open economy with population of 3.7 million. Georgia's strong record of economic reforms and improved living standards after Rose Revolution in 2003. The country's economy grew robustly at 5.3 percent per annum between 2005 and 2019, despite major shocks. Poverty declined from 30 percent in 2005 to 14 percent in 2019. Despite the consistent developments, Georgia faces challenging social and economic problems and stays as a lower middle-income country with $4,786 GDP per capita (current US $). After liquidating corruption in education system, higher education accessibility increased for youth from poorer families, but accessibility for youth of regions stays problematic, since the educational institutions are mostly concentrated in capital city, Tbilisi.
Georgia is consisted of two Autonomous Republics and nine regions.
Map of Georgian administrative regions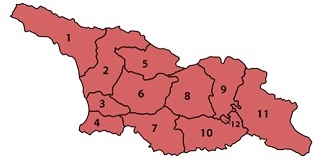 Legend:
1. Abkhazia (out of government control)
2. Samegrelo-Zemo Svaneti
3. Guria
4. Adjara
5. Racha-Lechkhumi and Kvemo Svaneti
6. Imereti 7. Samtskhe-Javakheti
8. Shida Kartli (including Tskhinvali region, so-called South Ossetia, out of government control)
9. Mtskheta-Mtianeti
10. Kvemo Kartli
11. Kakheti
12. Tbilisi
32% of the overall population is concentrated in the capital city, Tbilisi (1.2 million). Second largest region, Imereti contains 13.1% of population, and next comes Kvemo Kartli with 11.7% of overall population. Least populated region is mountainous Racha-Lechkhumi and Kvemo Svaneti with only 0.8% of populations.
In the period between the two population censuses (2002-2014), Georgia's rural population declined; during this period the rural population decreased by 23.7%, while the decrease in the urban population was 7.1%. Consequently, the urban-rural population ratio has changed considerably: the share of the urban population in total population has increased from 52.3% to 57.2%. However, the decline in the rural population has persisted since the last census conducted.
Graph: Rural-Urban distribution of populations (thousands)



Source: Geostat

29% of overall youth (aged 15-29) live in capital Tbilisi, and then comes Imereti containing 15.4% of overall young population. 12% of total young population live in Kvemo Kartli.
Table: Distribution of Youth Population in Regions, %
| | |
| --- | --- |
| | Youth, 15-29 age |
| Tbilisi | 29 |
| Adjara A.R. | 8.5 |
| Guria | 2.9 |
| Imereti | 15.4 |
| Kakheti | 8.2 |
| Mtskheta-Mtianeti | 2.7 |
| Samegrelo-Zemo Svaneti | 9.3 |
| Samtskhe-Javakheti | 4.6 |
| Kvemo Kartli | 12 |
| Shida Kartli | 7.5 |
Source: Geostat
The share of young people in the regions in the population ranges from 19.1% to 25.4%. In Tbilisi and Kvemo Kartli the share of young people exceeds ¼ of the population. The lowest share of young people is in Samegrelo region (19.1%).
Graph: Share of youth (age 15-29) in total population in regions, %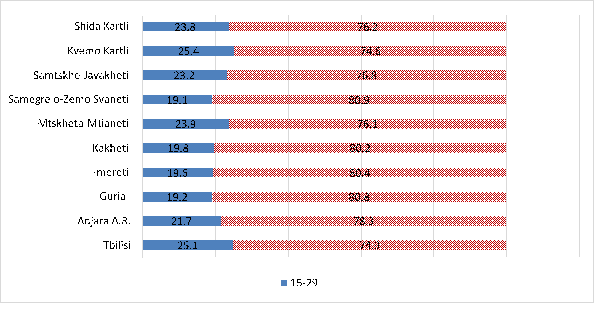 Source: Geostat
Poor diversification of the rural economy and the low productivity of the agricultural sector causes the lasting weakness of the rural economy. In fact, more than 50% of the overall gross value added is created in Tbilisi (2018 year), which shows that the urbanization level of Georgia's economy is very high. The smallest share in value added created by the regional economy falls on the Racha-Lechkhumi and Kvemo Svaneti and Guria region (0.6% and 1.7% respectively).
Graph: Distribution of gross value added by regions (mil. gel) (2019)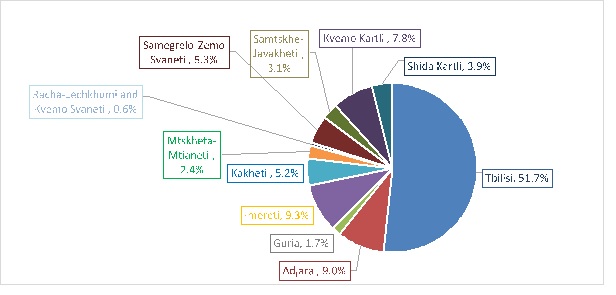 Sourse: Geostat
As it was expected, the business activities also are not distributed evenly among regions of Georgia. Among active business entities (185778 entities in total), almost 42% of entities are focused in capital city (77836 entities). The second largest region is Imereti with the share of 13.55% (25165 entities), and next comes Ajara A.R with 10% (18557 entities). The rest eight regions contain 35% altogether (Data for 1 October 2020).
Graph: Number of active entities by regions (2020)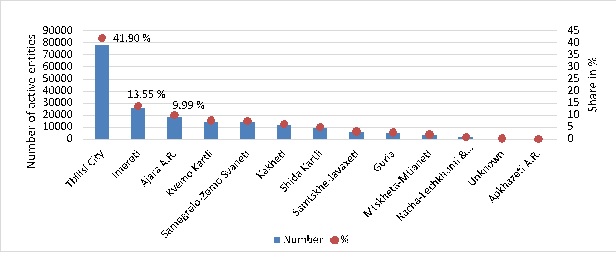 Sourse: Geostat
As the center of economic activity, the labor force of the country is concentrated in Tbilisi. The overall Labor force of the country is 1911.2 thousand persons and 25.6% is accumulated in the capital (2019 year). The second largest regions in terms of economically active population is Imereti (284.9 thousand persons). Then comes Kvemo Kartli and Adjara A.R. (227.7 and 179.0 thousand persons respectively).
Georgia is following to ILO Bureau of Statistics definitions. According to the methodology, self-employed is defined as a "persons who, during the reference period, performed some work (i.e. at least one hour) for profit or family gain, in cash or in kind" (R. Hussmann's, Measurement of employment, unemployment and underemployment – Current international standards and issues in their application). Due to the lack of real sector development in regions, big share of the population inertially are following agricultural activities for self-consumption and according to definition, they are counted as self-employees. 49.7% of total employment comes on self-employment and the share is even higher in regions. On average, more than 60% of employees in regions are self-employed and we can assume that the most of them are not considering themselves as employed persons.
Graph: Employment and self-employment in regions (2019)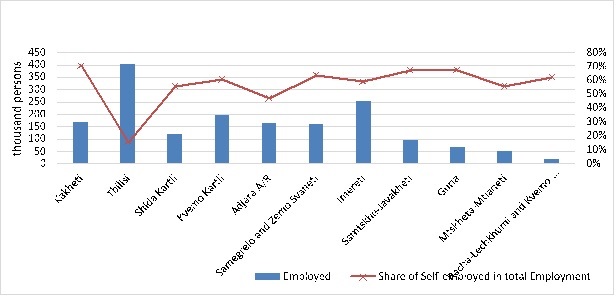 Sourse: Geostat
Officially, in 2019 overall unemployment rate was 11.6%, which is distributed unevenly among regions. In Imereti unemployment rate is highest and it is 17.7%.
Labor Force and Unemployment in Regions (2019)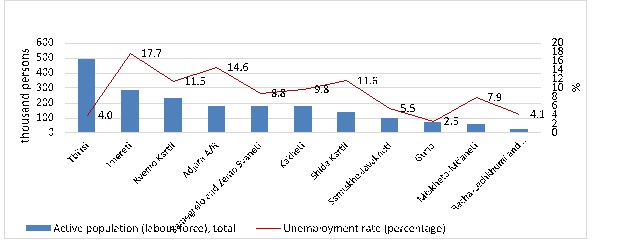 Sourse: Geostat
As a continuation of the discussion above, income of people in regions is rather smaller compare to Tbilisi. In 2019, average nominal wage in Georgia was 1129.5 GEL. Tbilisi stands above the average with 1350 GEL, while the average nominal wage in regions (excluding Tbilisi) was just 750 GEL.
Graph: Average wage by regions (2019)



Sourse: Geostat
Higher and Vocation Education in Regions
In Georgia, there are 30 universities , 22 teaching universities , and 4 colleges . In addition, there are 8 Orthodox Divinity Higher Educational Institutions. As we see from the table below, more than half of higher education institutions locating in Tbilisi. Variety of universities not only is higher in Tbilisi, but also offers significantly better-quality compare to regional institutions. Consequently, this difference either makes the young person to move to Tbilisi, or stay in region and graduate formally with poor opportunities to get modern knowledge.
Table: Higher Education Institutions
| | | |
| --- | --- | --- |
| | Public | Private |
| Tbilisi | 8 | 29 |
| Adjara A.R. | 3 | 5 |
| Guria | - | - |
| Imereti | 2 | 2 |
| Kakheti | 1 | 2 |
| Mtskheta-Mtianeti | - | 1 |
| Racha-Lechkhumi and Kvemo Svaneti | - | 1 |
| Samegrelo-Zemo Svaneti | 1 | 1 |
| Samtskhe-Javakheti | 1 | 1 |
| Kvemo Kartli | - | - |
| Shida Kartli | 2 | - |
Source: Geostat
Vocation education becomes more popular lately; but number of offered VETs, verity of specialties, and enrolment stays low in Georgia. At the end of 2019 and the beginning of 2020, vocational education programs were accessible in 10 regions and 37 municipalities (including Tbilisi) of Georgia. State vocational education institutions are accessible in every region in Georgia, while private institutions do not cover small regions (Mtskheta-Mtianeti, Racha-Leckhumi and Kvemo Svaneti, Guria). For the beginning of 2020, there were 89 vocational education institutions in Georgia, 51 of them private and 38 – public. In 2019, 19,312 people were registered for vocational education programs; 79% out of these were registered in public institutions and 21% - in private (Ministry of Education, science, Culture, and Sport of Georgia).
Table: Number of VET educational institutions in Georgia (2019)
| | |
| --- | --- |
| | # of VET |
| Tbilisi | 48 |
| Adjara AR | 15 |
| Kakheti | 6 |
| Kvemo Kartli | 4 |
| Mtskheta-Mtianeti region | 4 |
| Shida Kartli | 6 |
| Samtskhe-Javakheti | 4 |
| Imereti | 12 |
| Racha-Lechkhumi and Kvemo Svaneti | 4 |
| Samegrelo-Zemo Svaneti | 6 |
| Guria | 4 |
Source: Geostat
Impact of education in regions
During 2017-2019 years, GeoStat Labor Force Survey (LFS) interviewed 174,851 individuals. The database includes detailed individual level information about demographics, education, profession, employment and type of a job, experience, earnings, etc. Using this data, I analyze the importance of education on labor market outcomes. Among the hired individuals, 46% have higher education, but we observe that higher education increases chances of employment and positively affects earnings of individuals. In addition to that, as demonstrated by regression analysis below, education also positively affects how successful the person is on a managerial position. We use number of persons under supervision as a proxy to managerial success. As a control variables, the regression analysis include dummies for regions and years, age and age squared, gender and the type of settlement (rural=2, and urban=1). First, we run the regression with dependent variable Number of persons under supervision and then we run the same model with another dependent variable – Hired, which is equal to 1 if person is hired employed and 0 otherwise.
Y=β_0+β_1 Years_of_education+β_2 Age+β_3 Age_sq+β_(4-13) Region_dummies+β_(14-15) Year_dummies+β_16 Rural_Urban
Table: Impact of education on labor market outcomes (OLS regression Results)
Dependent variable (Y)

Persons_under_supervision

Hired

Coef.

P value

years_of_education

0.1390*

0.0570

0.0346**

0.0000

Age

0.1893**

0.0130

0.0152**

0.0000

Age_sq

-0.0024**

0.0040

-0.0002**

0.0000

Sex

1.4384**

0.0000

0.0401**

0.0000

Region

Adjara

-1.0995*

0.0520

0.0387**

0.0000

Guria

-2.1365*

0.0730

-0.0046

0.4570

Imereti

1.3827**

0.0050

-0.0036

0.2930

Kakheti

-2.4334**

0.0010

-0.0060

0.1680

Mtskheta-Mtianeti

-2.7565**

0.0290

0.0588**

0.0000

Racha-Lechkhumi Kvemo Svaneti

-2.7346

0.3070

0.0659

0.0000

Samegrelo - Zemo Svaeti

-1.6248**

0.0270

-0.0321**

0.0000

Samtskhe Javakheti

-1.2161

0.2590

-0.0086

0.1080

Kvemo Kartli

-1.0476*

0.0990

0.0133**

0.0000

Shida Kartli

-1.8710**

0.0210

-0.0106**

0.0170

Year

2018

0.1470

0.7000

0.0125**

0.0000

2019

0.7966*

0.0370

0.0100**

0.0000

Urban_Rural

2.3013**

0.0000

-0.0899**

0.0000

_cons

-7.3469**

0.0000

-0.3171**

0.0000
Significance of coefficients: **-significant at 95%, *-significant at 90%.
Years of education appears to be statistically significant for both dependent variables (for success on managerial position and for being hired), showing that more years of education increases chances of hired employment and also chances of having better managerial position. One more year of education increases hired employment chances by about 3.5% on average and increases number of people under supervision by about 0.14% on average.
Age is a significant determinant for both, hired employment and managerial success, but in both cases, it has concave down shape (negative coefficient for Age squared variable), indicating that, for example, managerial success increases with age up to 40 years and then it experiences downward trend for older people. Hired employment chances increases as well up to the age of 38 and then declines.
Coefficients of regions show different patter for the analyzed two dependent variable. Given all other characteristics are equal, people in Adjara, Mtskheta-Mtianeti and Kvemo Kartli have higher chances of hired employment than those residing in Tbilisi (which is taken as base/comparison region), while Samegrelo Zemo-Svaneti and Shida Kartli residents have lower chances of hired employment as compared to Tbilisi. Other regions are not statistically different. As for the number of persons under supervision, only Imereti has statistically higher value than Tbilisi. In rural areas they have more people under supervision in general, which is confirmed by the positive coefficient for rural-urban variable (2.3013) in the corresponding model, but as expected chances of hired employment are significantly lower in rural areas (-0.0899).
Conclusion
It should be noted, that today the university is not just a treasure of knowledge, focused only on teaching and fundamental research. University activities have always been focused on creating knowledge, to which has been added today the intensification of the university activities. Universities, with their triple role (as providers of higher education, research and innovation), are the driving force and organizations of European development. They have the potential to fulfill Europe's goal of becoming a world's leader in a knowledge-based economy and society and a crucial implementer. Therefore, Georgia, which is a bearer of European values, should take into account the European approach of sustainable development. The analysis of Georgia's regional potential presented by us, allows to study the labor market in this direction. All this serves to set a real action plan to strengthen the third role of universities in the future and thus contribute to accelerating the country's economic growth.
---